Here are some books, in French, about the computer algebra system MAPLE. The material in this directory is taken from the now obsolete web site http://algo.inria.fr of the research team Algorithms at Inria. Some links could be incorrect.

---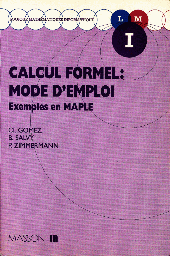 Calcul formel : Mode d'emploi - Exemples en Maple, Bruno Salvy, Claude Gomez, Paul Zimmermann, Masson ,1995.
Référence Bibtex
Voyez la page consacrée à ce livre par Paul Zimmermann pour une version plus récente.
Après la publication de ce livre, j'ai écrit des réponses pour environ les 2/3 des 156 exercices proposés.
---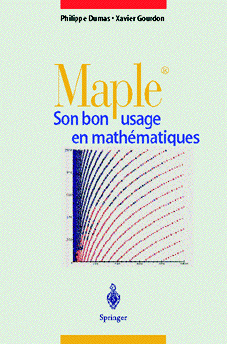 Maple - Son bon usage en mathématiques, Xavier Gourdon, Philippe Dumas, Springer-Verlag, 1997
Introduction | Commentaires | Errata
Code Maple | MicroMaple
Référence Bibtex | Page de Springer-Verlag
---